Pacific Northwest Sandcarvers - May 2003
Compiled by: Irene D'Aloisio
Revised: August 03, 2005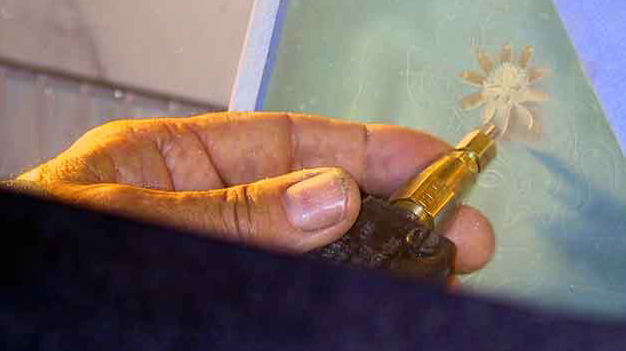 ---
Publisher's note: take the time to follow the hyperlinks in Irene's article. There is a real feast of glass resources in the Pacific Northwest; this article will take you to some of the more interesting
---
Just wanted to share a great week had by the Pacific Northwest Sandcarvers at the end of May. We started the week with a great session from Bob Pickard, who had been visiting Jim Yount on the 'dry side'.
Fortunately for us, they didn't have precipiphobia, so they came for a visit to the 'wet side' to meet and share.
We met at Deb and VJ's place in Puyallup Washington. Visitors to Deb's studio were immediately humbled by the fantastic work of this amazing artist. With 18 years of carving experience, she is an inspiration to us all. The piece below is just a hint of her work; maybe with some encouragement, she will soon do a website.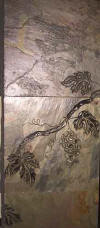 It was a terrific session and our heads were nearly exploding with information from Bob and Jim, and networking and brain picking from the other carvers. (We were feeling starved for info – our last gathering was in January!). The best thing about getting together is that there is so much to learn just by talking to other carvers. Bob was terrific and gave us lots of info on his techniques – and we even did some blasting that day too with his own equipment. We worked with steel wool, Q-tips, caulking, and lots of other things. We each had to be careful, tho, and keep an eye on our personal belongings. The group was practically in a frenzy with the caulking stuff and if something could be used to manipulate it on the glass and it wasn't tied down, it was used! Do I remember someone saying they wanted to use Curious George's (the ferret) feet??
Bob was too generous. He had a drawing for one of his guns (lucky Angie!!), several tapes, chipping tools, and other things. It doesn't matter how many carvers you meet, there's always something new to learn. Thanks, Bob, for sharing and taking the time to visit us. We appreciate it.
Of course, these two couldn't just say See ya soon! They gave us their ideas about an international meet and we all agreed it would be great. Then they suggested that it be hosted by the NW group and there was still lots of enthusiasm for it. The idea would be to plan our event to coincide with a fusion event like Warm Glass Weekend, or Hot Glass Horizons that alternate between other locations and Portland, in the Fall of 2004, or perhaps a collaborative workshop with the Oregon Glass Guild.
They talked about a challenge that went over big as well. A great way to get carvers all over communicating and taking that extra step in challenging themselves to move forward a step or two. Or three!
For me personally, the week continued to focus on sandcarving. Three out-of-the-Seattle- area carvers stayed with me so they could attend the Bob Pickard session as well as the photo resist workshop the next weekend. In between them, the four of us went to the Museum of Glass in Tacoma that has a hot glass shop and knowledgeable commentators, wonderful glass exhibits, and great books on glass. I had to stop by a milling plant to get some promised glass for our workshop and we got the tour of the tempering and finishing plants. That was a treat too. The Plant Manager said he'd never really had a group so interested in glass before. He also said that he'd be happy to accommodate us for any of our events from a tour standpoint if we move forward with the international meet. A nice guy, and even if he isn't an art glass company, he appreciates glass and its artists. He took nearly two hours out of his day for us. It was a great learning experience and a terrific contact.
During the week we went to Portland. We got there a day early and went to Bullseye and some of the glass shops there. That place is so friendly and so into glass, I was truly surprised. The Bullseye shop had wonderful pieces on display as well as their products and offer lots of classes so you can make what they display – or anything else you'd like. They have excellent equipment in their shops for all sorts of glass projects. Lots of demos on the products they sell, too, so you can see how they work. Across the street, is the Bullseye gallery, which is fascinating in itself. I'd always thought that Seattle was a huge glass town, with attractions like Spectrum Glass, Pilchuck Glass School and the Glass Art Society with its huge international art glass show that "comes home" to Seattle every ten years (next show in June 2003). But after this visit, I think Portland may outdo us, especially for warm glass (fusing) work. It would definitely be a great place for a meet. Besides these places, there's Avery Anderson, Gil Reynolds, Firehouse 12, Eugene Glass School, the Oregon Glass Guild, and others just down the way.
The next day we took an airbrushing class with Raphael Schnepf at Savoy Studios. Raphael is truly a legend in his field, with his airbrushed art on many famous rock albums of the 1960s and 1970s. He is now a creative consultant to Savoy. Our heads were so full of glass and info from carvers that it took us an hour to find the place and it was only two blocks from our hotel! We started off with a detailed tour of Savoy Studio. We got to talk with the artists and blowers and fusers and just about anyone we wanted. Another mind boggling day! On the second day, Raphael took us across the alley to Uroboros and gave us the tour there. They don't do tours any more, but since he works so closely with them, it's not a problem. It's really fun to see how their glass is made. Class was terrific and we came back with two projects (one paper, one mirror) that made us look like experts! We highly recommend this class. If it turns out we do the meet in Portland (Oregon, not Maine!!), I'm sure we can arrange some classes with Raphael.
Finally, back on Friday night and off to our workshop on Saturday morning, again with the generous hospitality of Deb and VJ. As usual, it took us a couple of hours to get started. We always start with catching up on things and welcoming new members and oohing and aahing over the work brought by other carvers. Yes, we'd visited with some of the carvers the previous week, but not everyone could make each session, and we had new folks at the second workshop. We focused on doing everything and anything with photoresist and getting to know the products intimately. Our purpose was not to determine which product was best, but rather how to use them efficiently: how to fix our mistakes (underexposing, over exposing, no tack, etc.). And again, it was a great session. We made lots of mistakes and learned a lot about the products. All of the materials were donated by vendors – glass, photo resist, vellum, etc. – so we could feel free to make mistakes without worrying about money.
We learned how to chip glass with a ball peen hammer, we talked about plotters and saw a demo. We discussed how to put together art for a plotter. We did some UV gluing. As usual, another terrific get together with great talent, hard workers, and overall nice folks. There was talk about the next workshop being in Portland and Lavelle Wallace volunteered her shop. Of course, we want to learn every one of her secrets, so we said YES!
My guests left Monday, but each night was filled with talk of glass and carving and ideas and we were frequently up past midnight and up early. They are amazed we have such an active generous group in the Northwest. It took me two days to recover and my head is still full of glass thoughts.
I'd like to encourage each of you to get together with those around you. There is nothing like support and encouragement and appreciation. Sandcarving can be such an isolated activity and we need each other to expand our own as well as each other's horizons.
DO IT!!! You'll love it.
Irene