Using PETG for Sandblast Masks
Author: Tom Eddleman
Posted:
Revised: August 03, 2005
Polyethleneterephtalate Glycol or PETG is a type of plastic that is well suited for sandblast masks.
The idea is that you either get some PETG from a plastics supply company or save your old apple juice containers (the ones that say "made from PETG"). You cut a piece a little larger than the piece to be masked, stick it in the oven at 250 deg. F. until it droops over the piece. Then you take it out and mold it to fit with a pair of oven mitts on.
A heat gun or hair dryer will finish the molding as the mask and substrate cool rapidly. I take a heat gun and mount it so that it's stationary and use both hands to finish molding the mask. Cut out the spot for the resist and you're done. 4 pieces of masking tape and you have the piece securely masked off. No more need to cocoon every cup or glass when you have a zillion to blast.
Be sure and blow the PETG mask off well between blasts or you'll scratch the substrate.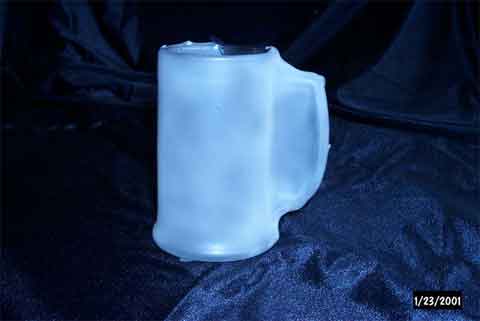 Mask front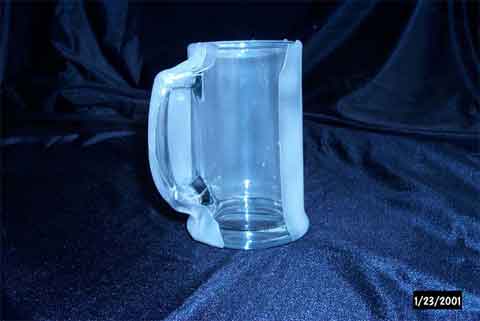 Mask back