Len Silva's Glass Shop Photos
Author: Len Silva
Published:
Revised: August 03, 2005
I've purposefully left the full size images large, so that other carvers can see the details. Click on any thumbnail below for a larger view - Jim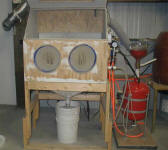 Cabinet Front
This is a view of my home built cabinet. The arm holes are an old pair of stretch jeans. I have moved most of the controls to the side of the cabinet.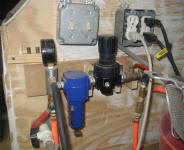 Controls
Here is where the controls are installed. As with most of my stuff, the temporary prototype never quite makes it to the finished stage.


Dust Collector
This is my dust collector. The vacuum is a 1/2 hp Delta from Lowe's ($89.00 on sale). The "pickle barrel" cyclonic separator was made by cutting a slot, about 4" by 18" in the barrel and placing some 4" aluminum flex tubing in it so that it runs about halfway around the barrel.
The tubing is covered in "Great Stuff" foam in a can to seal and stabilize it. This dust collector works almost too well as there is little or no dust in the discharge. Everything is collected in the barrel.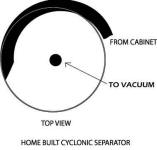 The drawing is my attempt to show how the tubing is run in the barrel.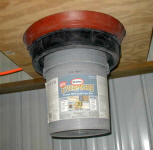 Dust Collector Bottom
This photo shows a five gallon bucket glued into the former lid of the barrel. It screws onto the barrel and is easily removable to empty out the collected abrasive.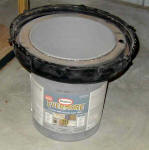 Dust Collector Receiver
This shows the dust collector bucket removed from the barrel for emptying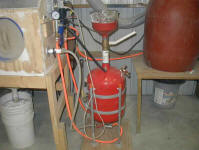 Pressure Pot Modifications
I moved most of the controls to the side of the cabinet. I have also replaced the legs with more substantial 1/2" pipe and added a bleed valve to drain off the air. It helps a lot to have this valve open when filling the pot to eliminate the "back puffs" f abrasive.
The fill cap was replaced with a ball valve and the funnel permanently
attached. There is also a vibrator attached to the pot.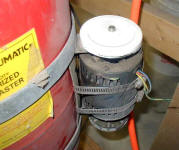 Vibrator
This was made from an old Teletype motor which I unbalanced by adding ome weight to the fan. Any small motor will do.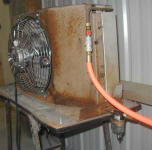 Air Dryer
This was made from a junk window air conditioner. I live way out in the country so opening the tubing and releasing the freon was not a problem
for me. You might want to have someone else do that part. I then flushed out the condenser with several fills of mineral spirits to get rid of any oil.
The original condenser fan was burned out and was 220 volt, so I bought a cheap 12" fan at Walmart.

I added quick couplers and a small water separator on the outlet line. It works quite well in the Florida humidity.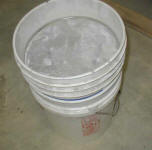 Sifter Ring
This was made from a spatter shield, available in most housewares departments. It was installed in a section of a five gallon bucket using hot melt glue. It then fits down inside another bucket.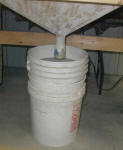 Sifter Installed
This is a view of the sifter and bucket under the cabinet

--
Len Silva
Leonard Studio
Custom Engraved Glass and Stone
3356 SW County Road 18
Fort White FL 32038
Phone 352-214-6498