Fine Lines, Hair Spray, and Silly Putty
Lessons learned in the search of the "fine print" in glass
Author: Jim Yount
Published: May 16, 2002
Revised: August 03, 2005
If I've been anything in this life, I guess I've mostly been a photographer, having picked up my first "serious" camera some forty three years ago. In the 1980s, I tried to follow in the significant footsteps of Ansel Adams, learning his techniques for producing realistic prints; images so sharp and realistic that the eye could "see" the photographer's intended image, instead of being distracted by imperfections in the print or lapses in the photographer's technique.
So when I began improving my images in glass, my first approach was to see just how clear and precise those images could be. Being recently retired (mechanical engineer), I could focus on doing the art, without having to sell anything, at least not initially. It's been an interesting journey, and I'm only part way there. This paper describes my progress to date, lessons learned, and directions for the future.
I started this phase of my glass work doing my own vector art in Adobe Illustrator, printing using an inkjet printer, Letralite exposure system, and Photobrasive's 3 mil UltraPro resist, the latter primarily because I could skip the gluing step, and simplify the process a bit, not to mention improve the final product with the consistency of a factory applied adhesive. I washed using a spray nozzle, with our puny 40 pound household water pressure. Blasting was performed with a pressure pot and 220 grit Silicon Carbide abrasive, in a second generation shop built cabinet.
Art
I can't draw. I CAN redraw fairly well in Illustrator. But when it comes to putting people in my work, a difficult effort becomes impossible. I struggled with this for some time, and then purchased Poser 4 from Curious labs. Ever see the movie Shrek? The technology is similar. The result is proportionately correct figures that I can rotate, light, and pose exactly. The program is sufficiently detailed (178 morphs on the face; 14 on the nose alone, with the add-ins from DAZ) that near portraiture is possible, with lots of patience and learning. At about $200, it is a bargain.
Fine lines in glass require fine lines in the artwork. It is quite possible to blast using photoresist and raster images. However, the best work will come from clean vector images. So, after experimenting using every possible setting in Streamline and Photoshop, I now draw my images by hand in Illustrator, designing the image for blasting as I go. I've determined that I need to consistently produce lines down to 1/4 point (0.0035 inches), to create the images I want to do. I had been able to consistently produce 3/4 point with the original setup; 1/2 point images were sometimes there, sometimes not. Improvements of that magnitude meant upgrading every aspect of my original system. Those changes and the reasons for them are described below.
Image
I "hit the wall" on my images of a 1936 Harley, and a 1931 Imperial Limousine. On the Harley, the 3/4 point spokes that were almost vertical showed "jaggies" that were serious enough to be noticeable in the glass. There was pin striping on the Imperial, nearly horizontal, that was so jagged it was not blastable. Micro photographs show that the inkjet positives were pretty ragged; the side by side comparison of film positive, laser, and inkjet images was very helpful. I had been using a high-end Epson printer in photo mode (model 1160, 1440x720 dpi), and this, coupled with Photobrasive's Accuart film had been working pretty well, before I applied the previously mentioned challenges of the tough images. I had some film positives done for $20 each, and of course they were perfect. In a short time, though, I would have enough invested to afford a laser printer. But, which one? And to what specifications?
I had always admired HP gear for its reliability. I called HP tech support, and asked about their tabloid printers. It turns out that all 1200 dpi lasers are not created equal. I learned that their lower end 1200 dpi printers will produce high resolution text, but not graphics. I would need a PostScript HP 4100 or 5000 to give the results I needed. I purchased a 5000 (11x17) from techonweb.com, and had a great experience. The price ($1384) was unbeatable, and while HP was asking $500 for the additional memory I wanted, I bought the same thing for $42 from Kingston. Now that's a savings!
With the HP printer, I'm now able to do my work at 1/4 point. But, the laser wasn't the only answer – read on…
Exposure
I had three issues with exposure: resist selection, Letralite limitations, and exposure times.
Resist. I do not do "production" work. I do my art one piece of glass at a time, and often spend 4 to 12 hours blasting each piece. Not having to glue is a plus, and improves consistency, so UltraPro was my only choice. Photobrasive recommends their 5 mil product for multistage carving. However, the 3 mil peels very well, and offers finer detail. They will tell you that you can not blast deeply with 3 mil. Don't believe it. I've settled on 3 mil, and buy it in rolls to decrease wastage. Be very careful when selecting resist. Many of the products have similar names, and confusion abounds.
Letralite. I started out using the Letralite, and discovered that it was not applying the needed pressure to keep the film positive against the resist during exposure. The gaps in pressure resulted in inconsistent exposure of the resist. I was fortunate to find a Nuarc vacuum frame at a friend's print shop. This 22 by 28 inch device will apply about 10 pounds per square inch, even with a vacuum pump that is getting a little tired. That will generate 800 pounds force on my 8 by 10 images, and has resulted in very consistent images. Check E Bay, and you'll find these units, with vacuum pump, sometimes come up for sale, generally less than $200.
Exposure times. I've run a few tests, and now expose for about 150 seconds, with a 1000 watt source at 40 inches. This is equivalent to the minimum exposure I had been using with the Letralite. The key was to give just enough light to cross link the resist.
Development (washing)
I had two issues with washing: long wash times led to loss of tack on the adhesive, and often washed away parts of the resist.
The solution was to pressure wash at temperature. I like to wash about 110 degrees, and was leery of the 104 degree limit on Karcher pressure washers. I misread the specifications from one source, and ended up spending too much on a heavy duty washer, that turned out to have the same limits as the cheapies. Low end Karcher washers can be purchased for $80 to about $130, and should work just fine, if you can keep the times down. My wash times average about 40 seconds, even with very fine detail. I haven't had any problems with loss of tack or detail since I made the changes. I've built a $15 wash box that eliminates splashing; you can see some photos on my website at www.graydog.org. Be prepared for some challenges when you replace the very long Karcher handle with a shorter one; the Karcher is all metric, and replacement short handles are all National Pipe Thread.
Blasting
I had four issues during the blasting process: protecting the back of the glass, tools for very fine contouring, remasking without lifting the resist, and applying a second resist after initial blasting
Protecting the back of the glass. I use a diamond burr tool for smoothing the glass between stages, and I do that carving from the backside, while viewing the operation from the front. This means that whatever covers the back must be pretty clear (burr engraving requires a very delicate touch and a ton of patience). I had been using thin glass to protect the back of the work piece, until I got a small particle of abrasive or glass between the art and the protective piece, and scored the art really bad, ruining the piece. I tried clear vinyl from a sign shop, but at $4 a foot, it cost way too much, and wasn't reusable. I've since found 8 mil clear cling vinyl from Dick Blick (www.dickblick.com search on "cling vinyl') for $3 a yard, and it can be reused. The latter has no adhesive whatsoever, so it should be very convenient to reapply.
Tools for contouring. I've added Bob Pickard's 1/8 inch gun, with the 1/16 and 1/32 nozzles as a second unit (with second pressure pot) to be able to carefully control the abrasive flow. I've also added a 4 1/2 inch 60 pound gage close to the cabinet so that I can monitor low pressures better ($14 from McMaster).
Remasking. I often have to remask when I do very delicate work. For example, on the motorcycles, I'll finish the spokes (0.5 point lines on the initial blast), and then want to blast a fender support (maybe 1 point lines) deeper. The spokes and fender support intersect at a very acute angle, and if not remasked they would run together. I've tried all kinds of stuff here, for example, vinyl tape. It protects well, but is hard to contour exactly (to fit a curve for example), and also tends to lift the resist. Don Niland suggested Silly Putty, and the stuff has saved my bacon already a few times. Thanks Don! You can buy it in bulk on the web (http://home.earthlink.net/~gschenberg/sillyput.htm)
Second Resist. One difficulty in carving is applying fine detail on top of a deeply carved section. For example, after you've carved a figure deep, how would you apply fine jewelry to the subject? The answer of course is using a second resist. You completely clean the part, and then apply a decal like piece for that extra detail, and mask the rest. The problem is that the blasted glass is rough, and the adhesive tends not to bond to the surface. The resulting images will either blow out or be less distinct. What's needed is to seal the surface with something that is easily blasted, and easily washed off when the operation in complete. Turns out that hair spray is perfect.
Presentation
I had two issues with presentation: how to effectively edge light my pieces, and then how to photograph them once complete.
I've tried all sorts of incandescent lighting schemes for edge lighting, and ended up defeated by the heat that results from doing the job right. I like the look of bright white LEDs, but they are expensive at about $3 a bulb, with 12 required for an 8 by 10 landscape. Jim Dowler at www.ccscape.com makes really nice units and strips, and has a source in Japan that lowers the cost of his completed units to less than you or I could buy the parts. I've also learned how to design and build the arrays so that I can put them in unique arrangements to fit a particular piece of glass or its image. I've designed some wood bases for LED lights that are fairly easy to build, and am happy to share the sketches.
So, after all that, I've come back to the skills I started with in photography, trying to document the finished art. This is really tricky, because of the limited latitude of most films and digital cameras, and the very wide latitude needed by the art. Let me digress:
The human eye is an amazing device. You can walk outside on a very bright (12 stop) day, and see details in the sunlight and in the shadows at the same time. The best films manage about seven or eight stops, and some films as few as four. An edge lighted piece of carved glass will look pretty good if there are as little as four stops between the darker and brighter details on the glass. To your eye, it will look pretty good. To a normal piece of film, it will look really uneven. The answer is to nail the exposure on the head, and use Photoshop to manipulate the blacks and stretch the contrast. Use fixed lights, never use flash, and learn how to compensate for your camera's confusion. Camera light meters think the world is composed of 18% neutral gray images. When it sees your images against a black background, it thinks "this must be really dark to make neutral gray look so black" and it proceeds to overexpose the images, usually by about 2 stops, sometimes more. Experiment, compensate, record results.
Photographing glass is a standard part of an education in photography. This is good news, because most textbooks and college courses contain some information that we sand carvers can use in mastering the basic skills. Here are two web links that might be useful:
AGFAnet Classical Photo Course. AGFA is a great photo resource; this lessons relates to photographing glass
Metal Objects - A useful link for understanding lighting arrangements, and the resulting effects on photographing shiny stuff.
Fine lines: How low can you go?
There seems to be a practical limit on just what the lower limit is for lines created by the photoresist process. In Illustrator, I did an array of lines at 0.25, 0.2, 0.15, and 0.10 point (from 0.0035 to 0.0014 inches). I printed the film on our HP LaserJet 5000, and exposed Photobrasive's 3 mil UltraPro resist, and blasted using 220 grit Silicon Carbide. The results are below, shown at 60 power on the Intel microscope. For reference, the images represent approximately 0.10 inches vertical by about 0.125 inches horizontal.
Results: All of the lines printed, and could be blasted. However, the lines were not proportionately smaller; as suggested by the manufacturer, there appears to be a lower limit at about 0.20 point (0.003 inches).
<![if !vml]>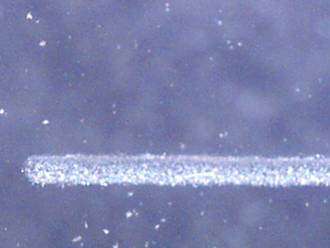 <![endif]>
.25 point lines
<![if !vml]>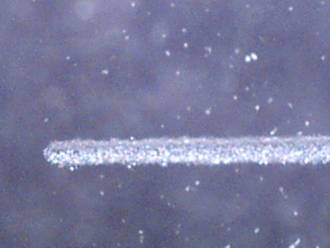 <![endif]>
0.10 lines