Carved black on white glass
Authors: Tom Eddleman and Tony Smith
Posted:
Revised: April 04, 2005
This beautiful image was carved by Tom Eddleman, using glass prepared by Tony Smith.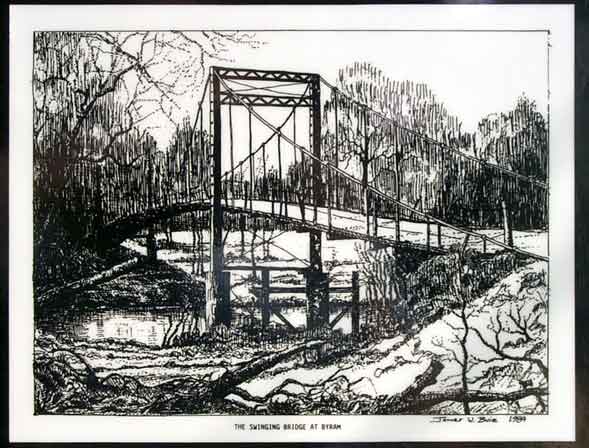 Tom writes: "I took a pen & ink drawing that a friend gave me that measures 6 3/4" x 9" and blasted away
the background. Kept pretty good definition didn't it? When the light comes through the back that white looks almost fluorescent. The photo below shows the detail a little better; the title is 2 mm high.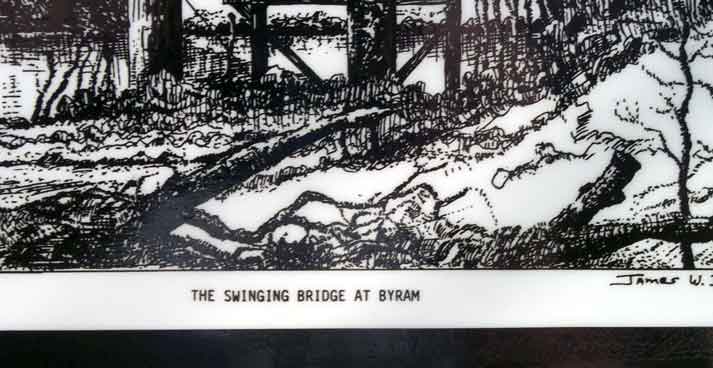 "The blasting is no big deal. Just blast away the background. If the resist is good and also thin (like 3 mil) it blasts pretty easily. All that I did different was to stay at least 6" away and blast like a frost; never in one place very long. All I had was the one piece of glass so there couldn't be any mistakes. You know what it's like when blasting through a colored layer and it gets thin. I started to do some fading with the border, but decided that it might detract from the drawing.
"The paint that he fired onto the white glass is actually just ground black glass in a medium that will allow it to stick to the glass prior to the firing. Once fired it's more like a layer of glass than paint. It doesn't chip; just erodes away like glass. The idea was mine, but Tony did all the real work!"
Tony adds: "That was black Paradise Paint (glass enamel) fused onto white Spectrum 96 glass. I used Paradise's premixed black (it's mixed in pine oil), thinned it with screening oil so it was paintable (it's the consistency of tar) and applied it until it was completely opaque... probably 3 coats. Since it was a single layer of 1/8" glass, I didn't want to bring the temp up too high or else I would have had thickening at the edges, so I matured the enamels at 1275° for 30 minutes. They didn't smooth out as much as I would get by taking it to a full fuse, but I could have used a lower temperature enamel also (just not from Paradise).
"The Paradise Paints are somewhat expensive (if you buy the whole color palette), but they go a long way after you thin them with turps or screening oil. They are only available directly from Paradise online at: